Sodium Lauryl Ether Sulfate (SLES 70%)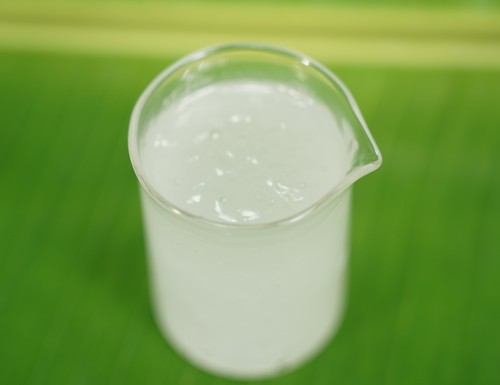 Sodium Lauryl Ether Sulfate (SLES 70%)
Price And Quantity
Product Specifications
Industrial

Shampoo, Liquid Soaps, Bodywash, Cosmetics, Pharmaceuticals, Pet Care, Industrial Cleaning
Product Description
Sodium Lauryl Ether Sulfate (SLES 70%) is a primary anionic surfactant that is extensively utilised in rinse-off products. It possesses great emulsification and foamability in addition to excellent detergency, which is another word for cleanliness. It's a key ingredient in rinse-off solutions. This is very much liked and highly appreciated by people, in the market. It is an anionic detergent and surfactant used in a variety of personal care products as well as for industrial purposes. This is very effective as well as economical and safe to use.
Applications of Sodium Lauryl Ether Sulfate:
SLES is a surfactant commonly used in various personal care and cleaning products due to its excellent cleansing and foaming properties. Here are some of its applications:
1. Shampoos: SLES is widely used in shampoos for its ability to create a rich lather and effectively remove dirt, oil, and styling product residues from the hair and scalp.
2. Body Washes and Shower Gels: SLES is a key ingredient in body washes and shower gels as it helps to create a luxurious and creamy lather while cleansing the skin.
3. Facial Cleansers: In facial cleansers, SLES aids in removing makeup, excess sebum, and impurities from the skin, leaving it clean and refreshed.
4. Bubble Baths: SLES is responsible for producing the foaming action in bubble baths, making bath time enjoyable and relaxing.
5. Toothpaste: SLES is used in some toothpaste formulations to create a smooth texture and enhance its foaming ability.
6. Hand Washes: SLES is commonly found in liquid hand soaps as it helps to remove dirt and bacteria while creating a pleasant lather.
7. Laundry Detergents: SLES is an essential ingredient in many laundry detergents, where it helps to lift and remove stains and dirt from clothing during the washing process.
8. Dishwashing Liquids: SLES is used in dishwashing liquids to provide effective cleaning and degreasing of dishes and utensils.
9. Cleaning Products: SLES is utilized in various household and industrial cleaning products like all-purpose cleaners, surface cleaners, and degreasers due to its excellent surfactant properties.
FAQ:
Q: What is Sodium Lauryl Ether Sulfate (SLES)?
A: SLES is a surfactant and foaming agent widely used in personal care products and cleaning agents. It is a clear or slightly yellowish liquid derived from ethoxylated lauryl alcohol.
Q: What is the difference between Sodium Lauryl Sulfate (SLS) and SLES?
A: Sodium Lauryl Sulfate and Sodium Lauryl Ether Sulfate are both surfactants used in similar products. The main difference between the two is their molecular structure. SLS is a simple sulfate, while SLES is an ethoxylated sulfate, which means it has undergone ethoxylation to make it milder and less irritating on the skin.
Q: Is Sodium Lauryl Ether Sulfate safe to use in personal care products?
A: SLES is considered safe for use in personal care products when used within regulated concentrations. However, some individuals with sensitive skin may experience irritation or dryness when using products containing SLES. If you have known skin sensitivities, it's best to do a patch test before using a product containing SLES.
Q: Is Sodium Lauryl Ether Sulfate harmful to the environment?
A: SLES can be harmful to the environment when released in large quantities. It is known to be persistent in aquatic environments and can have adverse effects on aquatic life. Manufacturers are encouraged to use environmentally friendly surfactants and employ responsible waste management practices.
Q: Does SLES cause hair damage?
A: SLES, when used in appropriate concentrations, is generally safe for most hair types. However, continuous and excessive use of products containing SLES may lead to dryness and potential damage to the hair, especially for individuals with already damaged or dry hair. It's essential to use hair products in moderation and consider products formulated for specific hair types if you have concerns.
Q: Are there any health risks associated with SLES?
A: SLES is considered safe for use in personal care products and cleaning agents when used as directed. However, it can cause skin and eye irritation in some individuals, especially those with sensitive skin. Ingestion of concentrated SLES can lead to gastrointestinal discomfort. Always follow the instructions on product labels and keep these products out of reach of children.
Q: Is SLES a carcinogen?
A: There is no substantial evidence to suggest that SLES is a carcinogen. It has been evaluated and approved for use by various regulatory bodies, including the Cosmetic Ingredient Review (CIR) Expert Panel.
Q: Can I use products with SLES if I have sensitive skin?
A: If you have sensitive skin, it's best to be cautious when using products containing SLES. While many people can tolerate it well, some individuals may experience skin irritation or dryness. Consider doing a patch test before using a new product and opt for products labeled as "gentle" or "sensitive" if you have concerns.
Q: Is SLES derived from natural sources?
A: SLES is typically derived from natural sources like coconut or palm oil, which are processed to obtain lauryl alcohol. This alcohol is then ethoxylated to produce Sodium Lauryl Ether Sulfate. However, the ethoxylation process involves chemical reactions and should not be confused with being entirely "natural."
Trade Information
Contact us for information regarding our sample policy

Packed in drums without pallets
Asia Middle East Africa

All India